"At Lynnes Welding Training, our mission is to provide our students with the skills and knowledge necessary to pursue a successful career in the welding industry."
---
Message from the President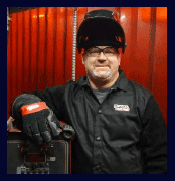 I started Lynnes Welding Training so I could share my passion and experiences in welding with every one of our students. My Father was a welder and from the first time I started welding I was hooked. I realized the more I practiced, the better my welding skills became, and the more opportunities I would have in the welding industry.
The more proficient I became as a welder, the more I realized how much more there was to learn about welding. I became a Certified Welding Inspector (CWI) in the United States and in Canada, and over three decades of welding, my experiences have ranged from working in manufacturing and pipe welding industries, to being an instructor, a business owner, and entrepreneur.
I've also had the opportunity to travel across our region and country as an active member of the American Welding Society (AWS). I started out as a volunteer and have held positions at the local, regional and national level including currently serving on the National Board of Directors for the AWS. My involvement with the AWS has allowed me to meet countless welders and great people in other industries and has opened up many opportunities for myself as well as for our students. It's exciting when I can reach out and contact a friend from my AWS network to help students with their search for employment.
What I've learned from my experiences, is that if you have a good work ethic, a positive attitude, like to be challenged, and a passion for learning, then the welding industry is for you. Welding will always be able to challenge your skills and knowledge, and will provide you with many opportunities as your career progresses.
At Lynnes Welding Training, we are a small school with big hearts. You won't be another number at LWT, you will become part of our family. The entire team at LWT is passionate about working with our students and helping them to achieve their goals.
We invite you to visit either one of our schools so you can meet our team, and see if welding is something that will spark your future.
Dave Lynnes
AWS CWI/CWE/CWS
CWB Level 2 Inspector
President of LWT
---
HISTORY AND BACKGROUND
LWT has successfully operated its training facility in Fargo, ND since 2006. When Dave Lynnes first developed LWT, he did so with the objective of providing welding training using a system and approach that would expedite training and still maintain a very high-quality level. The end goal was to help students become employable as highly skilled welders that employers wanted to hire. LWT's system has been successful in achieving this original objective.
FARGO, ND LOCATION
LWT initially started with 6 training booths, and now today is operating with 25 booths in Fargo. In 2009, the decision was made to expand LWT and open a training facility in Bismarck, ND.
BISMARCK, ND LOCATION
The Bismarck LWT branch initially started with 8 training booths, and now today is operating with 12 booths.
RAMSEY, MN LOCATION
In 2021, opened the first Minnesota location in Ramsey. This location is equipped with 15 welding booths.
While many of LWT's students come from the upper Midwest, LWT has trained students from as far away as California and Great Britain. Most of the LWT's students, however, come from the North Dakota, Minnesota and South Dakota tri-state area.
Both of the ND LWT locations are approved by the ND Department of Career and Technical Education to operate as a private career school. For more information on our state approval, contact administration at the school or:
ND Department of Career and Technical Education
Attn: Michael Netzloff
State Capital, 15th Floor
600 East Boulevard Ave Dept 270
Bismarck, ND 58505-0610
701-328-3187
In addition, both ND LWT locations courses that are 120 hour classes and higher are approved for Veterans education benefits on the GI Bill® (including Chapter 31 VA Vocational Rehabilitation).
''GI Bill® is a registered trademark of the U.S. Department of Veterans Affairs (VA). More information about education benefits offered by VA is available at the official U.S. government Web site at https://www.benefits.va.gov/gibill."
ACCREDITATION

Lynnes Welding Training of Fargo and Bismarck, ND and Ramsey, MN are accredited by the Accrediting Commission of Career Schools and Colleges (ACCSC).
The ACCSC is a recognized accrediting agency by the U.S. Department of Education.  For more information, visit www.accsc.org or call 703-247-4212.
---
INSTRUCTIONAL FACILITIES
LWT's Fargo location is a 6,350 square feet facility located at 2717 3rd Avenue North, Fargo, North Dakota 58102. The facility is equipped with 20 welding booths; 5 grinding stations; an area for cutting and storing materials; two classrooms; and additional reception and office areas.
LWT's branch location in Bismarck is a 4,800 square feet building located at 4329 Centurion Drive #9, Bismarck, ND. The facility is equipped with a training room for lecture and testing, a reception area and a large hands-on area containing the site's welding booths and equipment.
LWT's location in Ramsey, MN is  located at 9459 US-10 Ramsey, MN 55303. The facility is equipped with 15 welding booths; multiple grinding stations; plasma cutting equipment; a welding demonstration area; an area for storing materials; an overhead exhaust system; a large classroom; and a reception/office area.
The welding booths utilized at LWT were custom designed by LWT and are over-sized booths that are metal on three sides with a center post welding station that allows for instruction in multiple welding positions and disciplines. All booths have flameproof curtains and ventilation to exhaust smoke and fumes.  Each booth has its own multi-process welding machine, other necessary equipment, and an adjustable table to custom fit every welder.
---
INSTRUCTIONAL FACULTY
Dave Lynnes FARGO 701-373-0658
Adam Lynnes FARGO 701-373-0658
Brandon Markey FARGO 701-373-0658
Joey Krussow FARGO 701-373-0658
Mike Morris BISMARCK 701-751-4256
Joey McAlister RAMSEY 763-270-0512