Lynnes Welding Training, Fargo, hosted another Boy Scout Welding Merit Badge event during the Boy Scout Merit Badge University on Saturday, November 18th, 2017.  The 13 Boy Scouts who participated learned how to wire weld and stick weld. Lincoln Electric donated an eagle and a plane for the scouts to weld together and to take with them.
Thanks to all the LWT staff and alumni for volunteering, and to Lincoln Electric for donating welding gear and the welding
projects.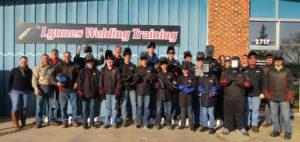 The Lynnes Welding Training Difference!
Skills Gained
Our desire is to graduate students with the right skills that employers want and need. Hands-on learning. A majority of your day is in the booth gaining actual welding experience.
Time Learning
Our combination welder program can be completed in 12 weeks! Our skills courses are 1-3 weeks.
Your Training
Excellent student to teacher ratio 12 to 1 Highly qualified industry experienced instructors
The Future
We strive to teach you a base of knowledge that continues to serve you in the future – learning and growing on the job. Contact us today to get the process started!