The 3rd Annual All-Alumni Reunion was held at the Fargo Campus on
Tuesday, June 20th.
The picnic included a BBQ, prize drawings, and a Job Fair. There were 7 North Dakota employers there including: Degelman Industries, Haugen
Enterprises, Express Employment Professionals, Harris Machine Company, Kelly Services, Steffes, and Volt Staffing!
We would like to thank all of the companies who donated prizes, including those who where at the job fair along with: Lincoln Electric, Airgas, Praxair, Lunseth, FEI, TrueNorth Steel, American Crystal Sugar, Grant's Mechanical, Tradesman International, Great Plains Towers, Case New Holland, Sandy's Donuts, and Meats by John and Wayne. Everyone who came to the picnic received a prize or two!
We all had a fun time and hope to see you at next year's picnic!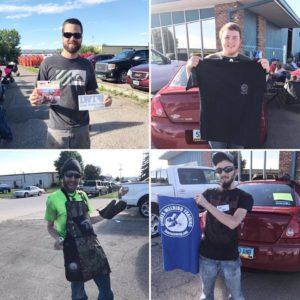 The Lynnes Welding Training Difference!
Skills Gained
Our desire is to graduate students with the right skills that employers want and need. Hands-on learning. A majority of your day is in the booth gaining actual welding experience.
Time Learning
Our combination welder program can be completed in 12 weeks! Our skills courses are 1-3 weeks.
Your Training
Excellent student to teacher ratio 12 to 1 Highly qualified industry experienced instructors
The Future
We strive to teach you a base of knowledge that continues to serve you in the future – learning and growing on the job. Contact us today to get the process started!